The phases of the moon are among the most fascinating astronomical behaviors we can observe with the naked eye and deeply rich sources of thought and interpretation in Astrology. Among the 9 phases – New, Waxing Crescent, 1st Quarter Half, Waxing Gibbous, Full, Waning Gibbous, Last Quarter Half, Waning Crescent, and Balsamic – the New and Full Moons capture most of the attention. This article will look at the current Full Moon and talk about the kind of "harvest" you should bring in emotionally during this full moon.
Full Moon – Reap What You Have Sown!
The Full Moon for April will occur on the 7th of this month at 18 degrees and 43 minutes in the sign of Libra; in my Eastern Standard Time zone, it will happen at 10:35 pm. It takes 29.5 days from one Full Moon to the next, spending approximately 2 and ½ days in a sign. The day before and the day after comprise what would be the peak time of the Full Moon energy.  The Full Moon is the time of "the harvest" when what began with the New Moon reaches full potential before waning and fading and preparing for a new cycle.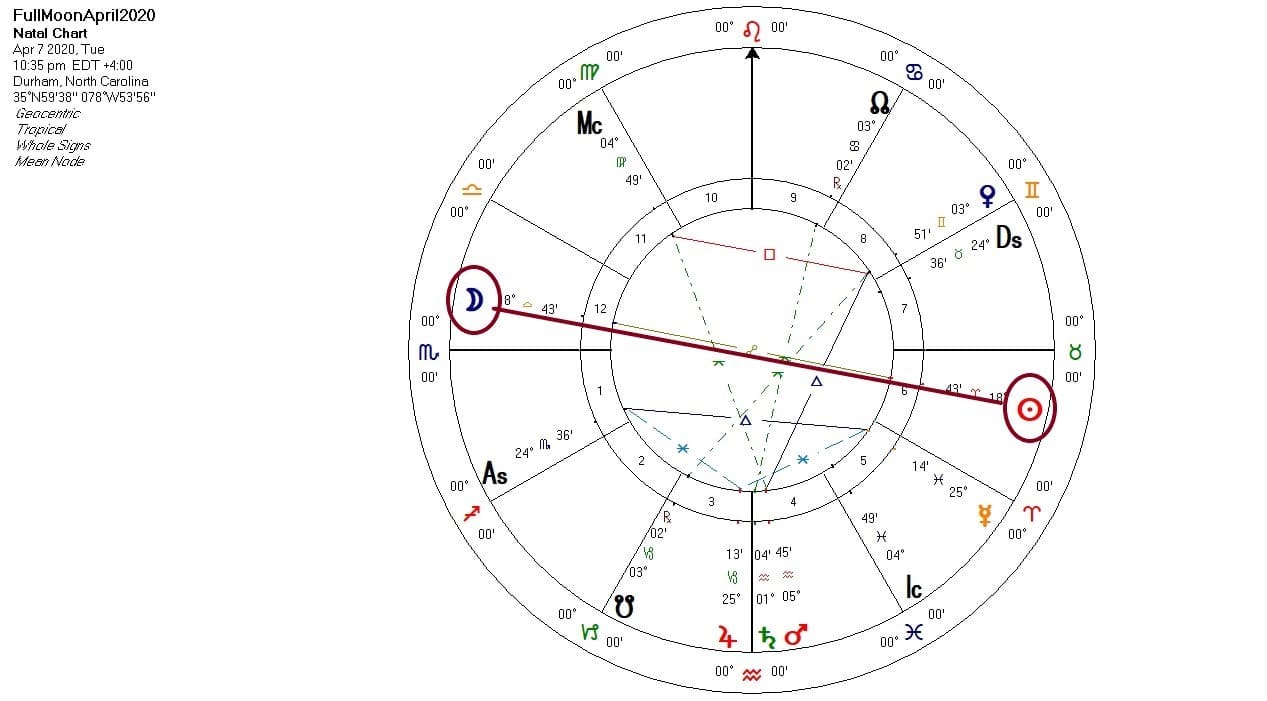 Each month has a certain type of Moon; April's Moon is the Pink Moon.  The name derives from the emerging wild ground phlox, which is one of the earliest wildflowers.  This Moon has several other names including Egg, Fish, Sprouting Grass, and Paschal. It is the first Full Moon of the spring and precedes Easter Sunday, which will fall on 4/12/2020.
There are also several special types of Full Moons: the Blood Moon, which happens during a total lunar eclipse; a Supermoon, which happens when the Moon is full and closest to the Earth; and the Blue Moon ("once in a blue moon"), which is a second Full Moon in a calendar month (occurring once every 2 and ½ years).  The previous Blue Moon was March 31, 2018, and the next one will be October 31, 2020.
Full Moon in Libra – Harvesting Relationships and Legal Matters
This Full Moon will take place in the 2nd Decan (middle 10 degrees) of Libra, making it a Libra/Aquarius Full Moon.  The planetary influences involve Venus as the ruler for Libra and Saturn as the traditional ruler for Aquarius and Uranus as the modern ruler.  Thus, this Full Moon will be about how we use our closest relationships to connect with our wider community.
This Full Moon energizes us to look at our relationships, from the most intimate to the most casual, as well as any matters involving legal decisions, such as personal legal documents like wills or public legal issues involving governments or businesses.  With the energy occurring so deep (19 degrees) into Libra, we want to be attuned to our relationships and our network of people in our lives operates.  Do we have a small or large network?  How do our relationships work for or against us at this time?
With this Full Moon at 18d43m, the Sabian Symbol is 19 Libra, "a gang of robbers in hiding".  Jones says, "This is a symbol of the periodic exercise of man's freedom of spirit and soul in a complete if often unhappy deviation from his normal impulses or attitudes, dramatized here on the side of practical or everyday self-fulfillment." (The Sabian Symbols, 169) The keyword is DIVERGENCE.
The Full Moon in Your Chart
The Full Moon will occur in a specific location of your chart and in a special relationship with various points in your chart if you have points near the same degree in the same sign, at the opposing degree (180 degrees away from a point in your chart), three signs before or after the Full Moon degree and sign (90 degrees away), or four signs before or after the Full Moon degree and sign (120 degrees away).
Respectively these would be a conjunction (the Full Moon merging with a point in your chart), an opposition (the Full Moon seeking balance with a point in your chart), a square (the Full Moon challenging a point in your chart), and a trine (a point supporting a point in your chart).  It is possible that the degree and sign of the Full Moon may not form any of these relationships and its effect, for this time, would be minimal or difficult to observe.
In my case, there are two impacts.  One is consistent with all Full Moons because I was born during a Full Moon. So, I feel pretty much every Full Moon in some significant way.  If you learn your birth Moon phase you will likely discover that the same phase each month has a strong impact on your emotional state.
With this Full Moon, I get to a near-exact replication of my natal full Moon, which is at 21 degrees of Libra, while my Sun is at 23 degrees of Aries.  It is very likely that I will feel the impact of my relationships, positive and negative, in the strongest of ways.  This Full Moon will happen in my 12th House of Spirituality, so I will also have to address the karma and dharma of my current relationships and the purpose of the people in my life.
As this Full Moon approaches, think about what you want to "harvest" from your relationships, your business dealings, and your decision making; all the areas of life under the rulership of the sign of Libra.