The phases of the moon are among the most fascinating astronomical behaviors we can observe with the naked eye and deeply rich sources of thought and interpretation in Astrology. Among the 9 phases – New, Waxing Crescent, 1st Quarter Half, Waxing Gibbous, Full, Waning Gibbous, Last Quarter Half, Waning Crescent, and Balsamic – the New and Full Moons capture most of the attention. This article will look at the current Full Moon and talk about the kind of "harvest" you should bring in emotionally during this full moon.
Full Moon – Reap What You Have Sown!
The Full Moon for February will occur on the 9th at 20 degrees and 00 minutes in the sign of Leo; in my Eastern Standard Time zone, it will happen at 2:33 am. It takes 29.5 days from one Full Moon to the next, spending approximately 2 and ½ days in a sign. The day before and the day after comprising what would be the peak time of the Full Moon energy.  The Full Moon is the time of "the harvest" when what began with the New Moon reaches full potential before waning, fading, and preparing for a new cycle.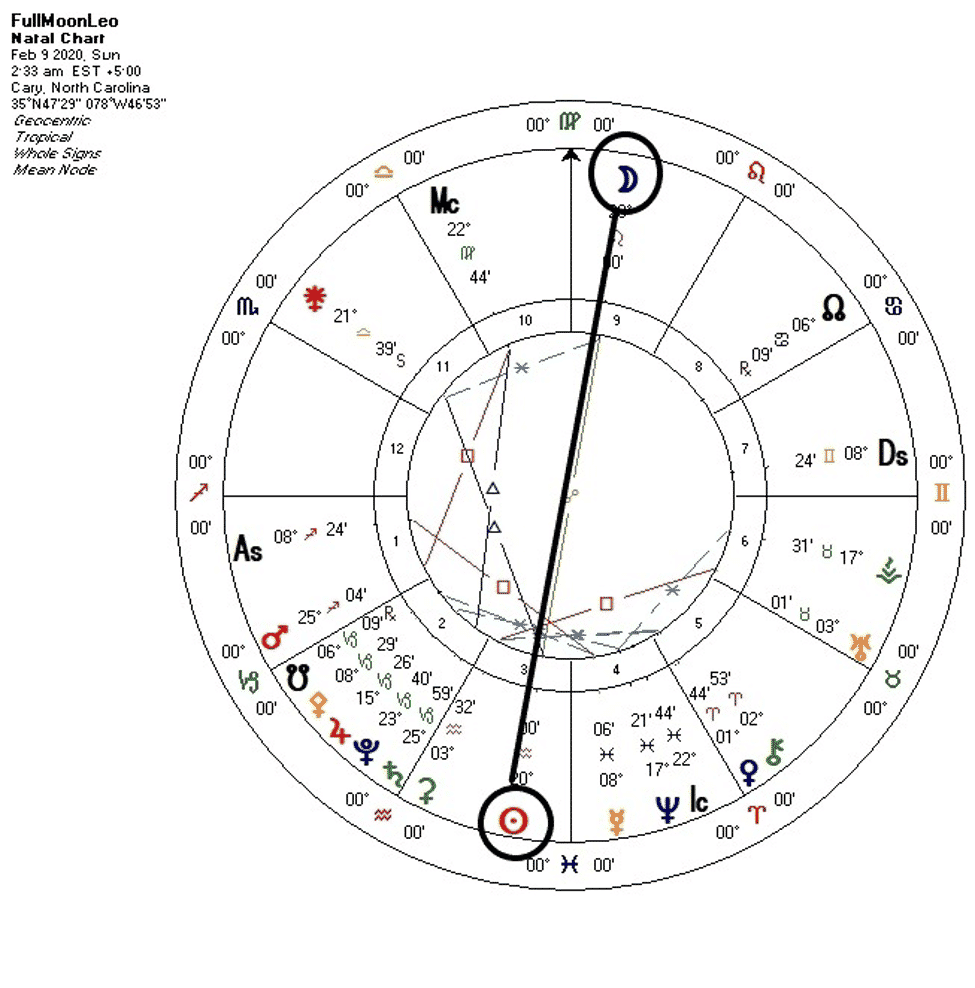 Each month has a certain type of Full Moon; February's Moon is the Snow Moon.  In the northern hemisphere, this name reflects the time when winter is in full force.  This Moon has other names: the Hunger Moon, Storm Moon, and Chaste Moon.
There are also several special types of Full Moons: the Blood Moon, which happens during a total lunar eclipse; a Supermoon, which happens when the Moon is full and closest to the Earth; and the Blue Moon ("once in a blue moon"), which is a second Full Moon in a calendar month (occurring once every 2 and ½ years).  The previous Blue Moon was March 31, 2018, and the next one will be October 31, 2020.
Full Moon in Leo – Harvesting Creativity and Playfulness
This Full Moon will take place in the 3rd Decan (last 10 degrees) of Leo, making it a Leo/Sagittarius Full Moon by modern Decan. The planetary influences involve the Sun as the ruler for Leo and Jupiter as the ruler for Sagittarius.  Thus, this Full Moon will be about how we express our creativity and playfulness, even in the limits of the winter period.  What creative work needs to be put out into the world for all to see?
This Full Moon energizes us to feel our sense of humor and our desire to stand out and perform, even if we are naturally introverted.  With the energy occurring so deep (20 degrees) into Leo, we want to connect with our inner child and let him or her out to play, to help us laugh and dance.  This can be an ideal Full Moon to break out the board games, enjoy a sport (indoors or out) with friends, go on a fun date with someone new or the love of your life.
With this Full Moon at 20d00m, the Sabian Symbol is 21 Leo, "chickens intoxicated".  Jones says, "This is a symbol of the inevitable distress of the human soul wherever it seeks stimulation from elements essentially alien to its own nature, dramatized in the reversed symbolism by the futility of dependence on physical agency for spiritual results." (The Sabian Symbols, 290) The keyword is ACCENTUATION.
This Full Moon encourages you to cut loose and have some fun; try to just let go.  You are here in a human body to experience hedonistic joy from time-to-time.
The Full Moon in Your Chart
The Full Moon will occur in a specific location of your chart and in special relationship with various points in your chart if you have points near the same degree in the same sign, at the opposing degree (180 degrees away from a point in your chart), three signs before or after the Full Moon degree and sign (90 degrees away), or four signs before or after the Full Moon degree and sign (120 degrees away).
Respectively these would be a conjunction (the Full Moon merging with a point in your chart), an opposition (the Full Moon seeking balance with a point in your chart), a square (the Full Moon challenging a point in your chart), and a trine (a point supporting a point in your chart).  It is possible that the degree and sign of the Full Moon may not form any of these relationships and its effect, for this time, would be minimal or difficult to observe.
In my case, there are two significant impacts.  One is consistent with all Full Moons because I was born during a Full Moon. So, I feel pretty much every Full Moon in some significant way.  If you learn your birth Moon phase you will likely discover that the same phase each month has a strong impact on your emotional state.  Full Moon individuals are constantly trying to "fulfill their potential".
With this Full Moon, I will experience it passing through my 10th House of Prosperity.  I have one very powerful point in Leo, Jupiter, which is at 25 degrees.  Therefore, I will feel a strong impact from this Full Moon.  It should give me a tremendous boost of positive, optimistic, and hopeful energy.  Anything that I have been working on creatively should "come to fruition" with this Full Moon.  I should especially see the benefits in my career and long-range prosperity goals.
This Full Moon really does have the potential to lift us up emotionally.  And with the Decan involving Sagittarius, it can be a good Full Moon to travel under, choosing a warm, inviting, and playful destination.  Even if you live in a part of the world that cold, with short days; try to make this Full Moon one on which you do something to connect with and express positive energy.  Throw a party, buy yourself an indulgent gift, or do something playful with someone young or young at heart!