Newly published tarot and oracle decks arrive on Amazon and in bookstores every month. Today there are literally thousands of decks to choose from, including out-of-print decks as well as published ones. Reviewing a deck is a subjective judgment intended to help readers determine if they want to own the deck reviewed.
The critical review of a deck for Ask Astrology involves looking at the quality and size of the cards, visual accessibility of the art, quality of the companion text of the deck, and potential usefulness in professional practice. This month I have chosen to review the Wisdom of the Hidden Realms Oracle by Colette Baron-Reid
The Wisdom of the Hidden Realms Oracle Cards

Published in October 2009 by Hay House, this deck of 44 cards is still in print and can be purchased new on Amazon or at a retail bookseller.  Used copies can be purchased on Amazon, eBay, and used book sites.  New on Amazon, the deck is currently $17.61. 
From the Amazon synopsis:
Mystics have passed down stories of magical realms hidden from mortal sight, bridging the world of Nature and Spirit. Even before the written word, the ancients established a Divine partnership between humans and these Hidden Realms. Both agreed to form an eternal Sacred Alliance to establish harmony and balance between the material and the spiritual.
The Alliance ensured that when we asked for guidance in manifesting our reality, they would help us find our way to the highest good for all. But in time, humanity turned itself away from the natural world as a source for the Divine and forgot about the realms in the Unseen realities.
Religious superstition, dominance, and the power of intellect, reason, and technology became our focus; and our partnership was forgotten, so the realms faded away. As our global concerns have increasingly been more plaintive, they have returned to help us find our way home to our true purpose, prosperity, hope, and happiness.
These cards represent some of those realms and their Queens and Kings, Princes, and other magical helpers. Let the Swan Queen point the way to transformation, the Arrow Master help you reach your goals, the Sun Dancers herald your victories, and the Sacred Union speak to the depth of your longing for love. Ask and ye shall receive, for the Highest Good is their motto. If you call upon them, they will answer.
Functionality
The card stock for the publication of the deck is very high quality and will hold up well with repeated use over time. The cards are larger than standard playing cards, but not so large that they are hard to shuffle. If you get a new copy, you will have to separate them and shuffle them numerous times before they are easy to handle.
Visual Accessibility of the Deck
The deck artwork is quite beautiful and very visually accessible.  All the cards have keywords to help support the visual message.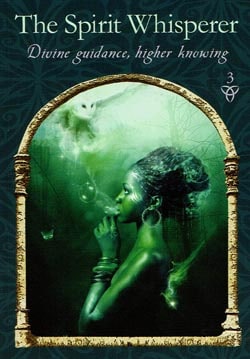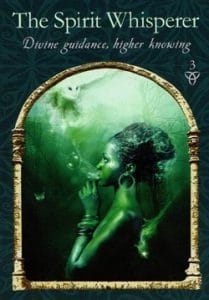 From Colette Baron-Reid's website:
As an Ally, the Spirit Whisperer comes to you heralding the miraculous and the inspired. She whispers guidance from the Divine through your higher senses so that you can hear her wisdom and know her love for you. She is committed to helping you intuit the next right action and steers you away from trouble. The Spirit Whisperer keeps you inspired to move forward, always knowing just in time the correct next step. She guides you to fulfill your highest purpose. When she appears, it's a sign of inspired ideas that, with continual action, lead to success! That's a very good omen.
If your question is about a relationship, the Spirit Whisperer speaks of soul connections, past lives, and great learning through mutual mirroring. She will whisper how long, how short, how deep, and how sweet the relationship can be. There were soul bargains made even before you both were born here, and exploration is in order. You may move forward, but keep listening to the Spirit Whisperer for the lessons that the vulnerability of love brings.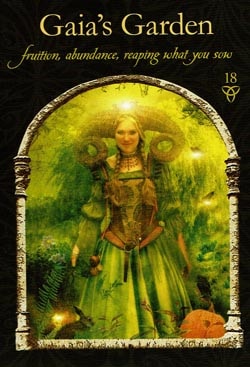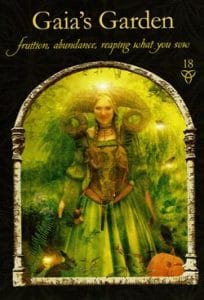 In Gaia's Garden, you have everything you need to make your dreams come true. There is no shortage of anything, and you're constantly reminded of the Law of Supply. Gaia is the infinite Spirit manifest in all-tangible things. She represents the abundance of Nature. When she comes to you as your Ally, she invites you to partake of all the blessings of Life. There will always be enough for everyone. Success comes to you from the fruits of your intentions, and all is well with the world as a result.
This is also a sign to remind you to give thanks and maintain an attitude of humility and gratitude as your greatest good now manifests for you. Gaia's gifts are sweeter when you share them with others.
Explanation of the Cards
The book and the website are both comprehensive, providing you with excellent descriptions of the cards and how to interpret them in your readings. Baron-Reid is a stalwart in the tarot and oracle card field, having published over 10 different decks.
Usefulness
As a professional reader who started reading cards for pay in 1992, I can say that this deck does work well in public because the images are stunning and the keywords and phrases that appear on the cards help convey the meaning clearly.
This deck is one of my top 25 "go-to" decks for public readings because the cards are artistically beautiful and exquisitely meaningful. Now that I am working with clients at a distance, almost exclusively, I offer 3 decks for clients to choose from for their reading when we work on the phone or via Zoom.  This deck would be among those three in the rotation of my top 25 decks.
Rating
I do see this deck as a general/specific use deck (fine for spiritual events, as well as "just for fun" events). I will give this deck a very high rating. I consider it an excellent personal and professional deck that has detailed explanations for each card. My copy is in a beautiful hand-crafted wooden box.
As a professional, I do enjoy reading with the deck and can recommend it as a deck worth owning and using. If you are a tarot and oracle card collector, then this is certainly a deck you need to have in your collection.