All tarot decks have themes. Some use certain cultures and belief systems, like the Mythic Tarot, which relays tarot messages through Greek Mythology, or the Osho Zen Tarot, which promotes tarot interpretations through Zen Buddhism. Some decks are based on animals, like the Baroque Bohemian Cat Tarot or the Tarot Draconis. The earliest decks reflect the historical period when and where they originated, like the Marseilles Tarot or the Visconti-Sforza Tarot.
While all tarot decks include cards about love and relationship, such as the Major Arcana VI, the Lovers, and many of the cards from the Cups suit, especially the 2 and 10, some decks favor love and relationship. This article will tell you which decks are best for asking questions focused on love and relationship.
The Lover's Path Tarot
At the top of the list for love and relationship tarot decks is the Lover's Path Tarot. The Lover's Path Tarot was published in 2004 and that edition is currently out-of-print but can be found used on Amazon or other book resellers.  The least expensive copy on Amazon is just under $100 ($98.99) at the time this article was written.  A Lover's Path Tarot premier edition was published in 2006 and is much more reasonable at $18.93.
Created by Kris Waldherr, the Amazon description states:
The most romantic tarot deck ever created!
The Lover's Path Tarot features classic love stories and myths from around the world. Kris Waldherr, the creator of The Goddess Tarot, narrates some of the most romantic love stories of all time while intertwining the tarot and its traditional archetypes.
The Lover's Path Tarot whispers that all love relationships mirror our relationship with ourselves. Its readers are taken on a journey where emotional and spiritual wisdom are gained by daring to love another. Featuring inspiring lovers such as Cleopatra and Caesar, Arthur and Guinevere, Cupid and Psyche, and nineteen other mythic couples, The Lover's Path Tarot allows for individual growth and understanding — whether seeking to improve and expand upon a love relationship with one's partner or one's self.
Lovers presented include:
Pamina and Tamino, Merlin and Morgan le Fay, Shahrazade and Shahriyar, Cleopatra and Anthony, Romeo and Juliet, Isis and Osiris, Tristan and Isolde, Brunnhilde and Siegfried, Danae and Zeus, Penelope and Odysseus, Orpheus and Eurydice, Pluto and Persephone, Venus and Vulcan, Paolo and Francesca, Aeneas and Dido, Dante and Beatrice, Cupid and Psyche, Tannhauser and Elisabeth, Ariadne and Bacchus
Here are some images of the cards:

The cards are about double the size of regular playing cards, so they can be a challenge to shuffle if you have small hands.  There is a book that comes with the first printing that is quite nice, which provides information about the lovers that make up all the Major Arcana cards, as well as thorough descriptions of the Minor Arcana cards.  If you want to do readings for yourself or others and focus intensely on relationships, then this is the deck to own and use.
The Enchanted Love Tarot
Another love focused tarot deck, the Enchanted Love Tarot is also filled with rich imagery.  Created by Monte Farber (Author) and Amy Zerner (Illustrator) and published in 2019.
From the Amazon description:
Monte and Amy are popular Tarot experts and legendary lovebirds, and now they have focused the ancient power of Tarot on the art of love. This unique system will give you clear, direct, and insightful advice to improve relationships and partnerships—and even find your soul mate! Each of the 78 tapestry-collaged cards is a magical fairy-tale world of enchantment, dreams, and fantasy that makes every one of your readings a work of art. Through proven relationship secrets and timeless spiritual teachings, learn to open your heart and your mind to make wise decisions on the pathway to love. Get in touch with the quiet voice within you that knows what is best for your greatest good and highest joy. Improve your existing relationship or find out how to meet your soul mate. Use the cards as a meditation tool or to build your intuition. This deck and guidebook will entertain and empower you in the ways of true love.
Here are some images of the cards: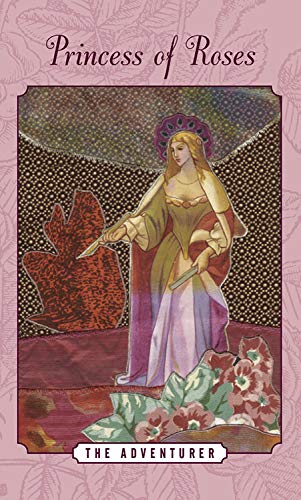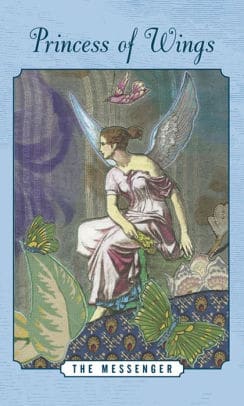 And here is a sample page from the companion book that comes with the deck: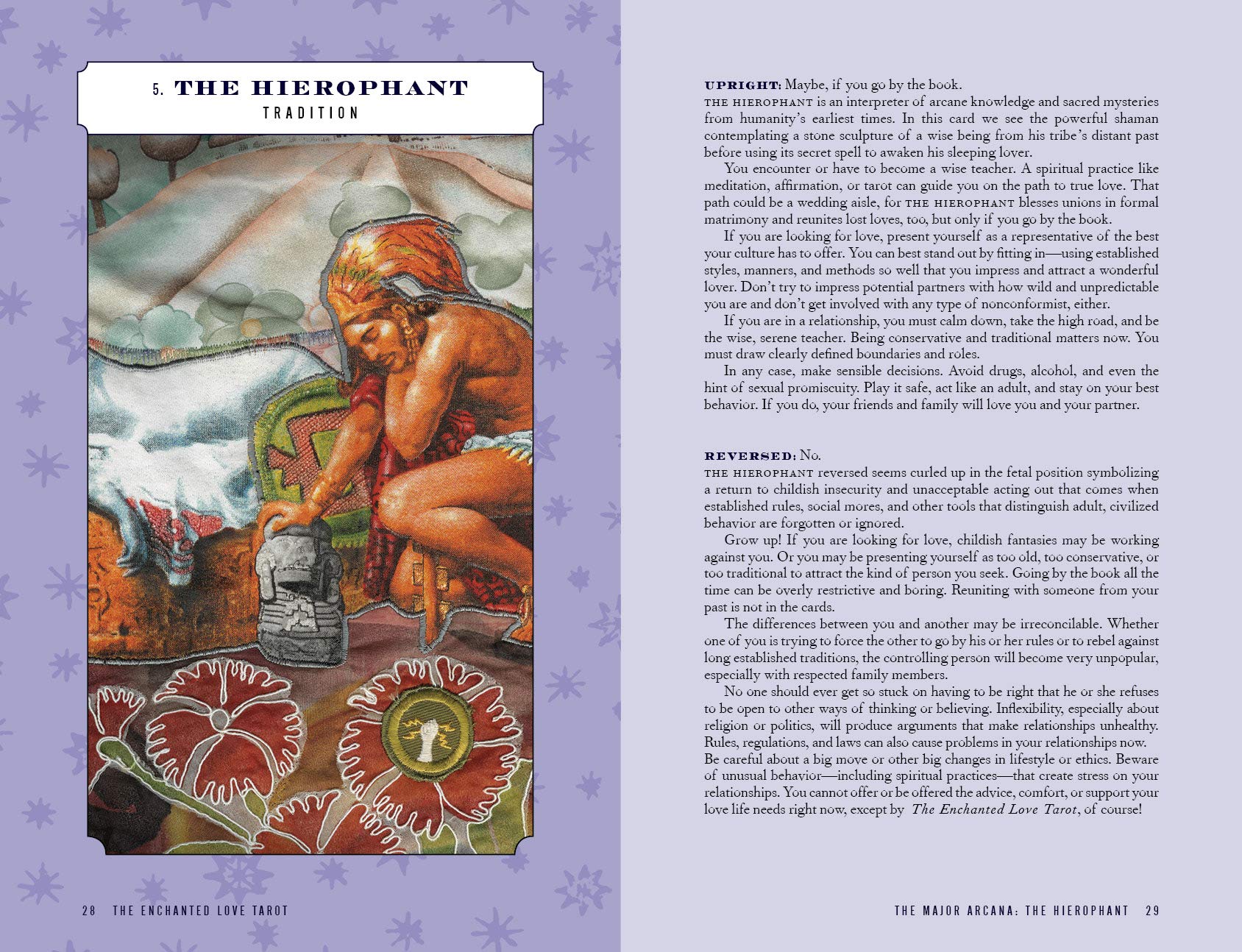 The collage-style provides plenty of images to help enrich the card meanings and provide the deck with a unique artistic feel.
Ethereal Visions Illuminated Tarot
Created by Matt Hughes and published in 2018, this deck is one of the most beautiful, artistically speaking. Incorporating gold foil as part of the design, the cards have a deeply romantic and magical feel to them, which makes them perfect for readings about love and relationship.
From the Amazon description:
In creating Ethereal Visions Tarot Matt Hughes has drawn inspiration from the Art Nouveau movement, adopting its distinctive style and meticulous approach to craftsmanship. The artist has also created two additional cards to supplement the traditional Major Arcana. Every detailed image in the 80-card deck is hand drawn and colored. Each card is illuminated with gold foil stamping, to elegant effect. Includes a 48-page booklet. Matt Hughes is a self-taught artist who focuses on the aesthetic approaches referred to today as "The Golden Age of Illustration." His style combines inspiration from the Art Nouveau, Pre-Raphaelite and Symbolist movements, to produce an artistic expression uniquely his own.
Here are some sample images of the cards:

As a professional reader, this deck is one of my newest favorites.  Hughes honors the tradition of the oldest decks, using an art style from the turn of the 19th to 20th century, that results in a surprisingly contemporary feel.  The card and print quality are very high, making this a must-have deck for any collection.  If you decide not to purchase one of the preceding decks for your love and relationship readings, then this deck will certainly serve your needs.
Honorable Mention
Golden Art Nouveau Tarot
Cosmic Tribe Tarot
Sun and Moon Tarot
Star Spinner Tarot (LGBTQ)