Tarot and Oracle Decks have exploded into the common experience since the 1990s. Today there are literally thousands of decks to choose from, including out-of-print decks and published ones. Reviewing anything involves subjective judgment based on various criteria. I will be looking at the quality and size of the cards, visual accessibility of the art, quality of the companion text of the deck, and potential usefulness in professional practice. This month I have chosen to review the Lover's Path Tarot by Kris Waldherr.
The Lover's Path Tarot
The Lover's Path Tarot was published in 2004, and a premier edition was released in 2006 by US Game Systems. This deck does come with a nice companion book and it can be purchased new on Amazon or through resellers like eBay and Alibris.
From the back of the box:
Inspired by classic love stories and myths from around the world, The Lover's Path Tarot features beautiful paintings of romantic couples such as Cleopatra and Caesar, Arthur and Guinevere, and Cupid and Psyche. Whether seeking to expand upon a love relationship with one's partner or one's self, The Lover's Path Tarot offers a sumptuously romantic and transcendent tool for individual growth and understanding.
Functionality
The card stock is very high quality, so the cards will hold up with continued and regular use. The cards are significantly larger than playing cards.  It would take very regular use to get them to flex easily; the stock is much thicker than playing card stock.
I have rather average to small hands (I cannot palm a basketball), so the size of a tarot deck of cards matters when it comes to shuffling them, especially in front of clients. The deck just fits my hands, so I have to concentrate when shuffling to make sure the action looks good to a client. This deck is more rectangular than square, with rounded edges, and beautiful print quality, so the images are rendered in such a way as to keep the high art feel of the paintings chosen for the deck.
The Lover's Path Tarot is a useful deck for professional readings, focused especially on relationships (obviously); the artwork and the concepts work well for the first time or experienced clients.  While the artwork is beautiful, it is decidedly from the Western Anglo tradition primarily, so I would not consider this a good deck for diversity use.
I have used this deck in public rotation, but usually for special occasions, such as Valentine's Day or speed dating events.  I have found it particularly useful with certain clients and it is one of the decks that clients can choose from when they come in for a session at my home office.  Powerfully, I have a client who has used and continues to use the deck to help her through the recent loss of her husband.
Visual Accessibility of the Deck
This deck is definitely visually accessible, which shows in the creator's choice of images for the themes described in the cards. In the cards above, Temptation replaces the Devil, using the story of Paulo and Francesca.  Most of the major arcana represent a specific couple and have named more closely aligned with the topic of love, loss, and relationship.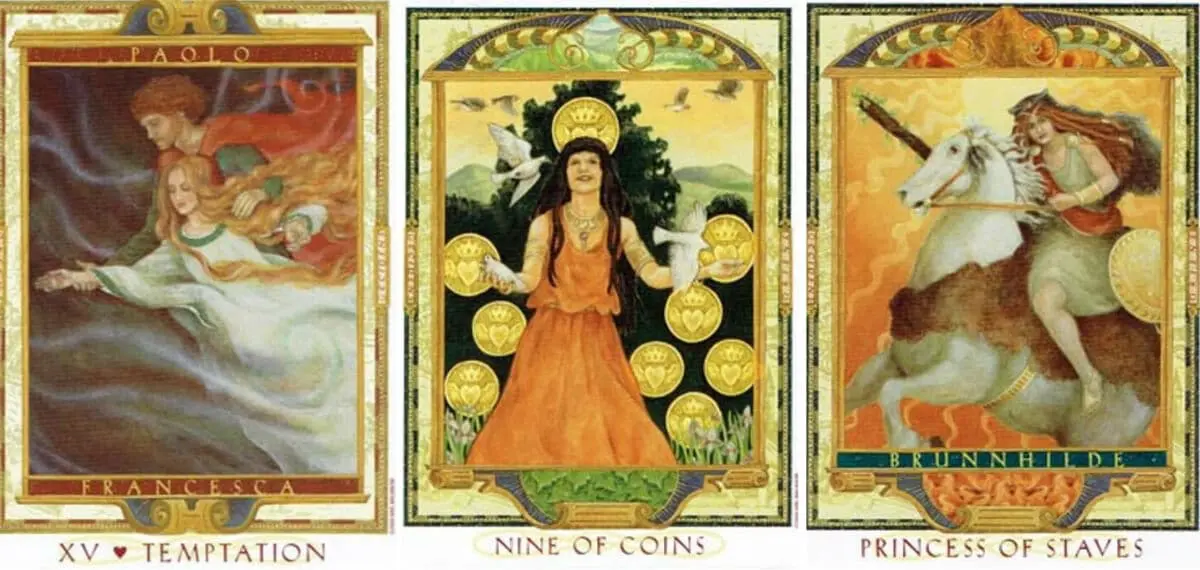 The 9 of Coins shows Danae, from Greek Mythology, who has wealth, "symbolizing the luxurious repose she has earned after a life of much turmoil" (117, the companion book).  This card is connected to the major card number 10 (X), Fortune, which show Zeus descending from Mount Olympus to seduce Danae.
Finally, the Princess of Staves, Brunnhilde, a Valkyrie warrior is the "personification of her father Woden's will" (87).  Drawing this card represents fearless energy that is untamed, asking the receiver to leap into action bravely.  She is connected to the major card number 8 (VIII), Strength, which shows her with her lover Siegfried.
Explanation of the Cards
This deck comes with a very nice companion book that is as well designed and easy to use.  The Major cards get two pages of explanation, starting with a description of the card, followed by the meaning of the card.  Keywords appear in a column on the left page below a copy of the image of the card. For Justice, the lovers are Penelope and Odysseus and the keywords are justice, wisdom, fairness, and detachment.  Meanings include confident patience and wise perspectives (37).
The Minor cards get one page of explanation, also including a description, meanings, and a column of keywords.  The Ace of Arrows is "a sky shot with lightning that reveals a single arrow.  It is topped with a heart, symbolizing the power of love to create wisdom" (93).
Usefulness
As a professional reader who started reading cards for pay in 1992, I can say that this deck is excellent for clients wanting to ask about relationship and love.  If they want to know about career or family, I would recommend another deck.  If the public setting is one involving something to do with dating or relationships, then this deck is ideal. This deck is more visually accessible than most decks and would actually make a good starting deck for someone interested in learning to read cards, even with its limitation to focus on a relationship.
Rating
I will give this deck a high rating for the very specific purpose that it is intended to address.  Clients who have worked with this deck have found it helpful and transformative.  The deck does work mainly with artwork that is classical and very Anglo-Saxon, so this is not the deck for people of different cultures who would like to see more universal or diverse representations.