What's the mood this month? What's on the cards? I felt drawn to pull two cards for February and have drawn The Ten of Pentacles (Reversed) and The Eight of Cups from the Rider-Waite Deck.
The Ten of Pentacles (Reversed)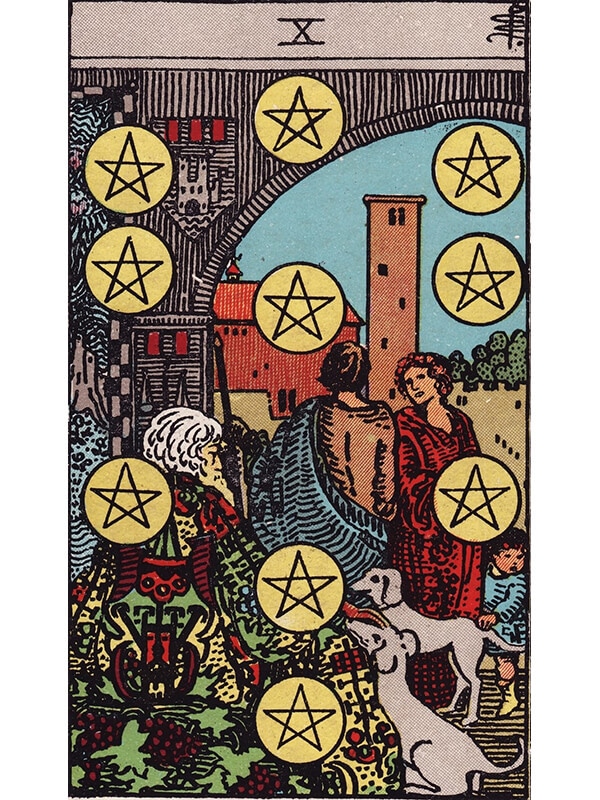 Keywords: Homeland, Family, Home, Money, Family Tree, Legacies, Continuity, Heritage, Family Business, Family Gatherings/Events/Celebrations, Businesses, Old Age
This card, drawn reversed, highlights particular challenges to do with these areas during the month of February 2021, from the government level down to the individual level.
The Ten of Pentacles is an earth suit card, and it's to do with everything that we most need, value, and treasure: security, belonging, homeland and the family home, money and inheritance, cultural heritage and legacies of all kinds, financial, cultural, physical, and even genetic. So your middle name was given to you in memory of your great-grandfather? That's the Ten of Pentacles. So, people say that you have your mother's eyes? That's the Ten of Pentacles.
It is the card of the inter-generational relationships which make the bedrock of society.
In terms of planets and timings, the Ten of Pentacles correlates with the zodiac sign Virgo and is ruled by Mercury, the planet of communications, trade, and travel, all of which continue to present a challenge during February 2021.
Late summer and early autumn will be among the better times for the world in 2021.
2020 was a dark year, a difficult year, and 2021 does look brighter and better, but still, there are tricky times ahead, and there is a major hurdle still to navigate right now, as the world's governments struggle with the second wave of Covid which may be peaking even now at the time of writing (24 January) or will be peaking imminently, and a new year has certainly not meant an end to the problems.
Governments face a financial and economic challenge in raising or borrowing the finances to support their respective economies through a time of severely reduced activity, although. The Tarot feels the global economy will recover perhaps surprisingly quickly, by or before 2023, family businesses are bearing a very great share of the brunt, and have the least reserves to withstand it.
History suggests global pandemics have been something of a once in a century event, and have tended to last between 1-3 years, and it is travel by ships, trains and planes which have carried them ever more swiftly around the world.
The Ten of Pentacles has been drawn reversed -upside- down – for February. This puts the card in its less positive light, reflecting the extraordinary struggle currently being experienced by many governments in so many countries troubled homelands (nations) economic challenges in direct consequence of this ongoing pandemic, and at a personal and family level, frustrations of individuals and families unable to unite during lockdown measure.
This second wave has by this point overtaken the first wave in terms of mortality. The UK wave may possibly pass, or have recently passed peak mortality during February, after which, things will turn a corner again, and the new challenge is to keep that R rate down.
The Ten of Pentacles is ruled by Virgo, the Zodiac House of Health, which in turn is ruled by Mercury. This planet went retrograde 30 January and stays retrograde until 21 February, making this a time when misunderstandings may quickly arise, and making this a good time to rethink a few things, not only in respect of paying close attention to health and hygiene, but to be extra risk-averse and vigilant in checking arrangements and information, for example, double-checking appointment times, important paperwork or travel plans.
Be especially careful around 17 February when there may be an extra risk of falls or other kinds of mishaps.
Virgo is very detail focused, very, and warns us not to relax our guard with things like distancing and frequent hand-washing, even though people may be, very naturally, fatigued and fed up to the back teeth of hearing it.
We want to protect our old people, but neither do we want to leave them lonely, afraid, and isolated. This is a challenge highlighted by the Ten of Pentacles but this card also reminds us, old age has value. Even as they may need our help, our old people can help and support us too, with many things to share and to teach us, seen and learned in their longer life experience.
The Eight of Cups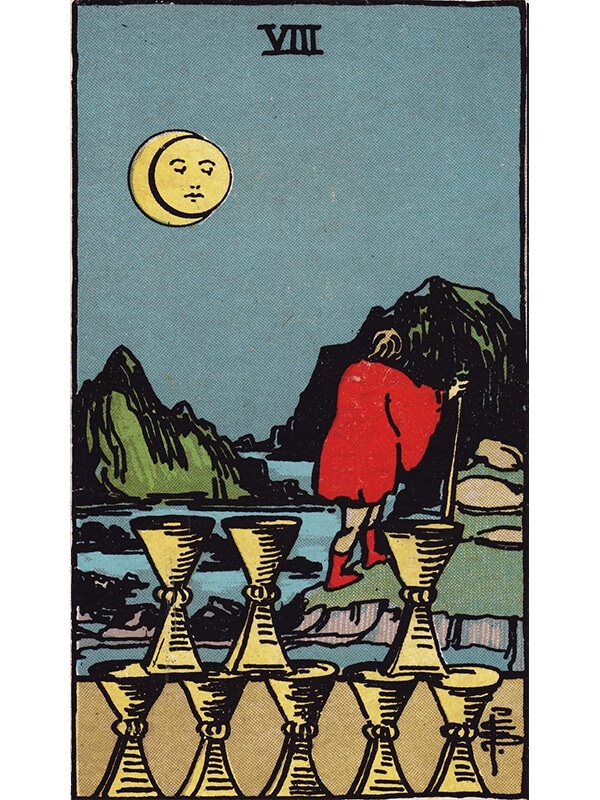 Keywords: moral courage, emotional courage, walking away, sadness, acceptance, resignation, disappointment, decisions, and hard lessons learned.
The Eight of Cups is about saying goodbye, and walking away. It's about the things we leave behind; the people, the places, the situations, maybe even hopes and dreams that no longer mean what they used to. Maybe we have lost interest. Maybe we are fed up with rejection. This card is about walking away, more in sorrow than anger, and heading off in a new direction to see what is over there yonder.  There may be disappointment or regret, but we have decided we owe it to ourselves not to stay here anymore.  There is nothing here that is good for us; there is no welcome or nourishment.
Donald Trump has left The White House. The UK has left the EU. They will not return. It seems unlikely that Donald Trump will want to run again for President in four years' time, assuming that the option is there. Britain has much hard work ahead, but is setting her face firmly to the future and will not rejoin the EU.
The Coronavirus will not so much leave as dwindle, not completely and not quickly. The virus is fighting hard for its own survival and we are fighting back. This is no flu. It is an epithelial disease, attacking the linings of the blood cells, which can then trigger a dangerously inflammatory cascade in the immune response.
Those who get it and have a relatively mild illness can count themselves extremely lucky in their own body's more safely manageable immune response.
February may have already seen the passing of the current peak of the CV 19 pandemic as we come into spring, and the days get longer and the sunlight returns to help us, not least by boosting our moods and levels of vitamin D, always important for immunity, especially so at this present time.
A daily vitamin D supplement is one of the cheapest, easiest ways to boost the immune system, and having an adequate level in our systems is claimed by many doctors to be an important factor in determining how well and how quickly we may recover should we contract CV 19.
In terms of astrology and timing, the Eight of Cups correlates with the first decan of the zodiac sign of Pisces, beginning February 19 to March 20.
Pisces is ruled by psychic, dreamy planet Neptune, suggesting a calmer, gentler closing to the month, and for many, there will be intense, vivid dreams and perhaps powerful religious or even psychic experiences.
'This too shall pass away.'
It will. It really will. Month by month we draw nearer to the inevitable end of this pandemic, and spring is nearly here. The snowdrops are long since out already.
The Chinese (Lunar) New Year
12 February 12 – 31 January 2022
In Chinese and other Far Eastern Asian astrology traditions, the Lunar New Year 2021 brings the Year of the Metal Ox, also called the Gold Ox; a Yin quality sign, receptive and inward.
The powerful Ox is practical, productive, traditional, hardworking, dutiful and orderly, placid unless provoked too far. (And really, why would any sensible person want to provoke it?)
We think of Bull markets. The Stock Markets could do better than expected in February.
The Ox represents you and me, the so-called ordinary citizen, the family person, and the working public.
This Chinese zodiac sign has a lot in common with the ideas embodied in the western mysteries of the Tarot, and especially with the earthy, family-minded, industrious, traditional Ten of Pentacles.
You were born in the year of the Ox if you were born in 1925, 1937, 1949, 1961, 1973, 1985, 1997, or 2009.
The Metal Ox and Health
The Metal Ox is especially associated with the lungs, and this may be taken as a lucky sign, a good omen for the easing of this second wave of the pandemic announced around 12 February.
The Ox says 'small is beautiful', and local is best for quality when it comes to fresh foods. The Ten of Pentacles suggests we support small, local family businesses and farmer's cooperatives as much as possible during the lockdown, to preserve as many of these vital businesses as we can, who may otherwise be forced to shut up their shops and walk away, like the figure in the Eight of Cups.
The Ox is slow, but strong and surefooted, while the Ten of Pentacles suggests that we will emerge collectively sadder but wiser; more knowledgeable due to the many hard lessons; economic, scientific, social, educational, and personal, of these exceptionally challenging times.
Take care and stay safe.