Newly published tarot and oracle decks arrive on Amazon and in bookstores every month. Today there are literally thousands of decks to choose from, including out-of-print decks as well as published ones. Reviewing a deck is a subjective judgment intended to help readers determine if they want to own the deck reviewed.
The critical review of a deck for Ask Astrology involves looking at the quality and size of the cards, visual accessibility of the art, quality of the companion text of the deck, and potential usefulness in professional practice. This month I have chosen to review the Animal Totem Tarot by Leeza Robertson and Eugene Smith
The Animal Totem Tarot Cards

Published in October 2016 by Llewellyn, this deck can be purchased new on Amazon or at a retail bookseller.  Used copies can be purchased on Amazon, eBay, and used book sites.  New on Amazon, the deck is currently $29.99. 
From the companion book:
Designed for those who love working with power animals or animal totems, the Animal Totem Tarot keeps the integrity of the tarot intact while honoring the wild beauty and insight of our animal companions. This guide takes you by the hand and walks you through totemic experiences that answer your most pressing questions. As you make your way through each section of this book you will learn not just about the animals themselves and why they are so important to your daily life, but you will also learn about the role the energy of tarot plays alongside the physical journey of both you and the animals in the deck.
From the Amazon synopsis:
Journey into the realm of the animals and discover the messages that await in spirit. Animal totems are powerful allies and guides for those who seek connection to their abundant energy. Soaring above or swimming below, crawling along the earth, or silently stalking in the shadows―all the animals have their own spiritual lessons and insights to help you along your way. In all their grace and wild beauty, animals possess wisdom beyond words. Let them speak to the deepest part of you.
Functionality
The card stock for the publication of the deck is very high quality and will hold up well with repeated use over time. The cards are larger than standard playing cards, but not so large that they are hard to shuffle.
Visual Accessibility of the Deck
The deck artwork is quite beautiful, and visually accessible for many, but not all the cards.  You will want to read the descriptions in the companion book to get a full understanding of how the creators chose and used the animal totems.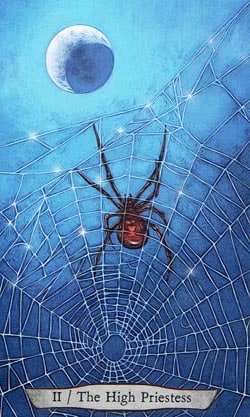 From the companion book:
It is all too easy to allow those around you to tell your story for you.  To strip you of your divine power and weigh you down with labels and limiting beliefs about who you should be.  But it is much harder to create yourself through the lens of your own divine vision, to be truly you, inside and out, without shame or guilt.  I care not about what others think they know about me.  They will gossip regardless of what I do.  But I know who I am and each and every day I honor my divine self by being true to my vision of myself and who I am (Message from the Black Widow, 29).
Her resolve is to create and to tap into her own divinity, to do what she was made to do and be exactly who she was created to be. This is the lesson of both the Black Widow and the High Priestess (30).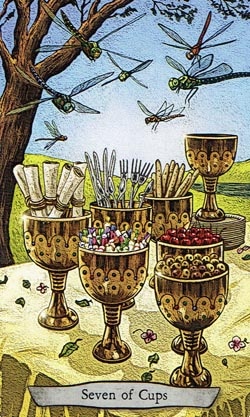 As we dance and buzz in the air, the sun catches our sparkling, iridescent surface, and just like that, we have your attention.  Before long we have you in a trance-like state, dreaming away about all that has been and could be.  You are so transfixed by our small bodies that time stands still, and you totally get lost in the moment.  Then, just like the snap of someone's fingers, it's all over and you are left to center, focus, and bring yourself and your dreams back down to earth (Message from the Dragonfly, 199).
The dragonfly connects the energy of the air with the creative power of water, letting you know that thoughts and dreams really can become real.  The Seven of Cups is both a blessing and a curse.  It shows you all that is possible, but at the same time, it shows you how easy it is to get lost inside a fantasy world you have created in your head (199).
Explanation of the Cards
The book is comprehensive, providing you with excellent descriptions of the cards and how to interpret them in your readings.  Robertson shows a solid command of tarot knowledge in her explanation of the cards.
Usefulness
As a professional reader who started reading cards for pay in 1992, I can say that this deck does work well in public because the images capture the imagination, which makes a reading "stick" in the Querent's mind.
While I do not use this deck as often as others for public readings, the cards are artistically beautiful and exquisitely meaningful. It is a deck I can offer to clients who have a strong interest in or infinity for animal spirit guides. Now that I am working with clients at a distance, almost exclusively, I offer 3 decks for clients to choose from for their reading when we work on the phone or via Zoom.  This deck would be one I now include in my rotation.
Rating
I do see this deck as a general/specific use deck (fine for spiritual events, as well as "just for fun" events). So, I will give this deck a high rating. I consider it a worthwhile personal and professional deck that has detailed explanations for each card.
As a professional, I do enjoy reading with the deck and can recommend it as a deck worth owning and using. If you are a tarot and oracle card collector, then this is certainly a deck you need to have in your collection.